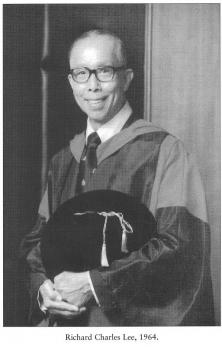 Dr. Richard Charles Lee (1905 – 1983)
One of the foremost Hong Kong businessmen and philanthropists of his day, Dr. Richard Charles Lee was born into a prominent family in Hong Kong, then a British Colony. He studied at Queen's College in Hong Kong, before attending the School of Engineering at Pembroke College, Oxford. During his time at Oxford, Dr. Lee became President of the Chinese Students' Union of Europe. He graduated from Oxford with a B.A. in 1927.
Upon returning to Hong Kong, Dr. Lee began his manifold career in business, politics, and community service. Among the many important positions he served include: representing economic commissions to Australia and Singapore for the Colony, leading trade missions to West Africa and Germany, serving in the Legislative and Executive Councils of Hong Kong, member of the Court and Council of the University of Hong Kong, as well as Vice-chairman of the Council of the Chinese University of Hong Kong.
Dr. Lee also served as the Chairman of the Board of Directors of many important companies that made remarkable contribution to the growth of Hong Kong. He was made Commander of the British Empire (CBE) in 1963, and was awarded Honorary Doctor of Laws Degrees from both the University of Hong Kong and the Chinese University of Hong Kong in 1964.